The Thymele at Epidauros: Healing, Space, and Muscial Performance
in Late Classical Greece Paperback – 15 Nov 2017 Amazon
by Peter Schultz (Author),‎ Bronwen L. Wickkiser (Author),‎ George Hinge (Author),‎
Chrysanthos Kanellopoulos (Author),‎ John Franklin (Author)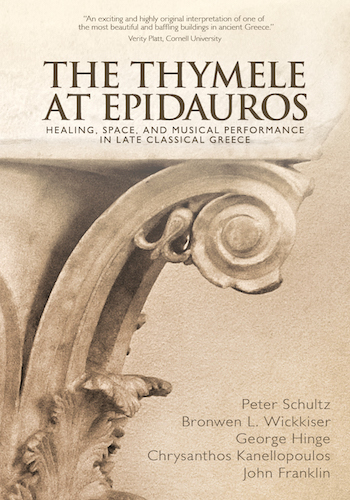 The Thymele at Epidauros is one of the most enigmatic buildings of the ancient Greek world. At the center of this book there lies a mystery. It is a mystery that has intrigued scholars for almost two centuries — a mystery that revolves around unique marks, sacred geometries, perplexing architecture, hidden passages, uncertain timelines, and lost rituals.
It is a mystery that has yet to be solved. In this important book, an international, interdisciplinary team has compiled, synthesized, and speculated on a host of new (and old) clues that bring the puzzles circling the thymele at Epidauros into clearer focus. While the ancient ideas and intentions that motivated the construction of this remarkable building remain shrouded by time, the material evidence, the epigraphical record, and the literary testimonia hold numerous potential solutions.
Through reexamination of these clues and their contexts, the authors hope to spark fresh debate regarding the form, the function, and the meaning of this unique and mysterious ancient architecture.







Publication reviews can be seen at the following online
reviews as of 2018.
Bryn Mawr Classical Review LINK
Archaeological Institute of America LINK