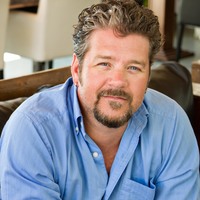 Peter Schultz received his BA in Art History, Philosophy and Classics from Concordia in 1994 and his MA in Art History from Vanderbilt 
University in 1997. A PhD in Classical Archaeology was Peter's last qualification, taken from the University of Athens in 2003.

Dr. Schultz has held advanced fellowships from the Fulbright Foundation, the A.G. Leventis Foundation, the Fritz-Thyssen Stiftung für Wissenschaftsförderung
and the American School of Classical Studies, Athens.

He is the editor at Early Hellenistic Portraiture: Image, Style, Context (with Ralf von den Hoff; 2007 Cambridge University Press), Aspects of Ancient Greek Cult: Ritual, Context, Iconography (with Jesper Jensen, George Hinge and Bronwen Wickkiser; 2009 Århus University Press), Structure, Image, Ornament: Architectural Sculpture in the Greek World (with Ralf von den Hoff; 2009 Oxbow Press) as well as the author of numerous articles on Athenian art, architecture and topography.

His primary research interests include Greek sculpture and architecture, archaeological theory, Macedonian history before Alexander and modern Greek poetry and landscape. Peter is currently completing monographs on the sculptural program of the temple of Athena Nike in Athens and on the social history of Greek art, both for Cambridge University Press.

Peter's expertise and extensive knowledge about the specific cultures and politics, along with the archaeological findings and Athenia art add more depth to our work. Known for his ability to see things in a somewhat different light to many of his colleagues, Peter is an invaluable member of the team who not only lends enormous experience and is prepared to air new views, question the status quo and push for new approaches to standard concepts.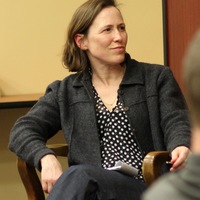 Bronwen Wickkiser is the author of numerous articles on Greek religion and medicine as well as of a book on the healing god Asclepius (Asklepios, Medicine, and the Politics of Healing in Fifth-Century Greece: Between Craft and Cult; Johns Hopkins, 2008). She is also coeditor of Aspects of Ancient Greek Cult: Ritual, Context, Iconography (with Jesper Jensen,
 George Hinge and Peter Schultz; Aarhus University Press, 2009).
Dr. Wickkiser teaches at Wabash College in Indiana where she is Theodore Bedrick Associate Professor of Classics.
Having earned her BA in Latin from Oberlin College and MA and PhD in Classics from the University of Texas at Austin, Bronwen's years of research and writing about Asclepius and Epidaurus have been funded by the American School of Classical Studies at Athens, the National Endowment for the Humanities, and the Loeb Classical Library Foundation, among other institutions.
More info on Dr. Wickkiser's work can be found here: http://www.wabash.edu/academics/profiles/home.cfm?site_folder=classics&vdeptid=114&facname=wickkisb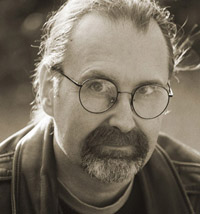 John Goodinson: graphic designer, agency art director, John went on to form a design partnership based in the heart of the UK post-production world – Soho, London, providing the UK film industry with creative title sequences. During the course of 20 years in the industry John has produced work for over 50 feature films, as well as a multitude of commercials,
 communication programmes and various business to business shorts and training films.

He has worked with extraordinarily talented directors such as Ridley Scott, Mike Figgis, Elias Merhige, Alex Cox and Danny Boyle. His credits are too many to list but include work on: Aliens, Clockwise, Sid and Nancy, Gothic, Legend, Shadow of the Vampire, A Life Less Ordinary, Wilde and Leaving Las Vegas.

His work in title design, visual effects and illustration stimulated John's interest in computer generated images, 3D illustration and animation, Coupled with his skills as an artist, commercial experience in post-production and his life-long passion for architecture and archaeology. John has spent years learning and developing the skills peculiar to 3D modelling in the virtual world.

John is the team leader of the 'anasynthesis' project.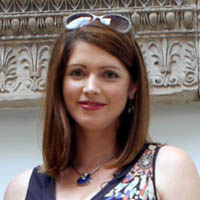 Alexandra Lesk PhD. Alex comes from Canada, where she completed a Biochemistry and Classical Archaeology double major at Dartmouth College, before pursuing a Master's degree at Oxford University in the United Kingdom and then a PhD at the University of Cincinnati in Classical Archaeology. She spent her summers excavating in Italy, Greece and Turkey before living in Athens for two years while completing the field work for her PhD thesis on the Erechtheion. While writing her thesis she taught archaeology at the University of Nottingham and directed an excavation in central Greece. She presented her research at several international conferences and has published many well-received articles based on her masters and doctoral research.

Alex returned to Vancouver where she lives with her young family, and teaches English and History. She is still passionate about the building that fired and challenged her so deeply and is committed to our project. (As a lead presenter for our programme about the Erechtheion). Her knowledge, support, advice and attention to detail are incalculable. Her expertise, sense of fun and ability to temper the more outlandish suggestions coming from our producers and writers keep us on track to produce a programme that will inform and enlighten while making people smile.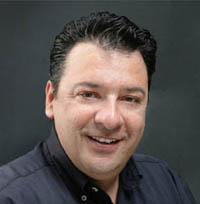 Yannis Kourtzellis. An archaeologist at the Hellenic Ministry of Culture & Tourism, Yannis has been working at the XXth Ephorate of Prehistoric and Classical Antiquities for twelve years, mainly on the island of Lesbos. A member of many excavations in Mytilene, the capital city of Lesbos, and Methymna, on the island of Lemnos, Yannis has had the privilege to reveal previously unknown areas of ancient history and civilisation. His work spans public and private classical buildings, sanctuaries, classical and roman cemeteries, archaic laboratories, geometrical residential areas, roman baths and late classical harbours. He has attended and participated in many international conferences, where his essays and articles have been published by international journals after peer review during conference proceedings.
Yannis' postgraduate studies focus on cultural informatics and communication. He is astonished and perplexed by the leaps in technology that now enable visualisation of archaeological sites and buildings that could bring the past to life not only for the scientists, but also for the public. He is astounded by the artistic and creative endeavours of 3D modellers, particularly John Goodinson, with whom Yannis has a close and effective working relationship. However, Yannis is also perplexed by the lack of understanding shown by many archaeologists about the revolution that really accurate and artistic 3D modelling and reconstruction could bring.

Yannis is an important advisor and collaborator, as a fellow 3D modeller he understands the trials and tribulations of 3D animation and reconstruction, and as an expert in his field Yannis continues to advise and support the project as a whole.